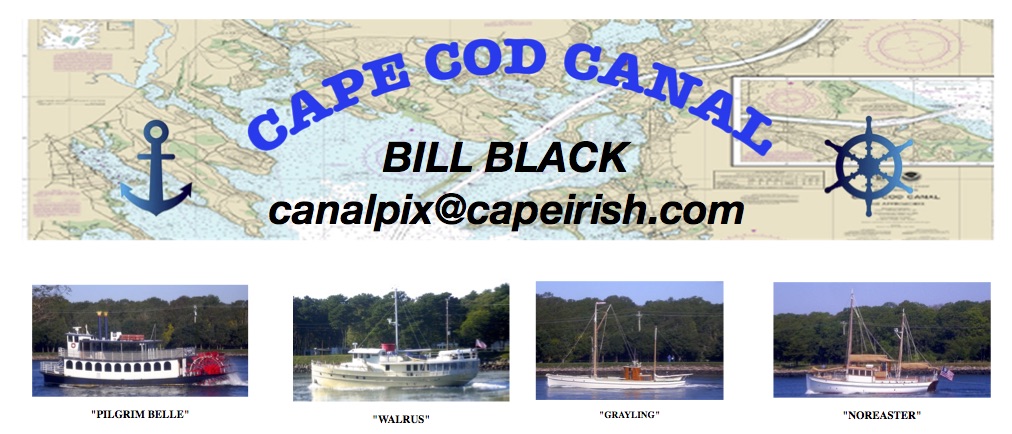 "NO UGLY BOAT"


A WEBSITE DEVOTED TO MARINE TRAFFIC OF ALL SIZES
IN THE CAPE COD CANAL

updated: 1/1/23

---

Jan - Jun 2022 photos

July - August -September 2022 photos

October 2022 photos

November - December 2022 photos

Click on the name and enjoy the picture!
(Eventually all these will be in a "gallery" format.)

---
Since Pat and I moved to our condo in Bourne Village in June 2014, we have enjoyed the proximity of
the lovely Cape Cod Canal ("proximity" as in 100 yards or so from our unit) and its never-ending
activity, tidal and commercial.

I have called this website "No Ugly Boat" because we truly believe that beauty - maritime
and otherwise - is in the eye of the beholder. We consider ourselves blessed to be
able to be "beholders".

I have taken advantage of all this beauty to embark on an avocation as a "marine photographer",
which is basically a fancy name for somebody who likes to take pictures of boats.

I hope it's not revealing any trade secrets to tell you that capturing images of the boats and ships as they transit
the Canal basically takes zero photographic skill (except for the occasional touch of iPhoto editing).

Disclaimer: not all the photos are perfect (surprise!) Although I always try for the
best possible results, sometimes [1] our Cape Cod weather wasn't cooperative
[2] I didn't have time to set up the shot [3] a camera gremlin decided to get involved.

---
The photos on this website are in "thumbnail" format.
On the webpages, clicking a thumbnail will open a larger image.

---
NEW:
I have put together an Excel spreadsheet file that lists all private craft on this site from the beginning (2016) to 2021. Each entry is linked to a photo. Clicking on the boat's name will open the photo.

In cases where the same vessel has been photographed in different years, clicking on the year rather than the name will open the photo for that year.

Note that I use the [a-z] lettering system to distinguish between boats of the same name, so that ZEPHYR [a] and ZEPHYR [b] are two different entries.

The file was created using Mac Numbers and exported as an Excel file. For reasons unclear to me, the server does not accept .xlsx files, but does accept .xlsx.zip files. The file should unzip (or unstuff) immediately upon download.

The link is: www.capeirish.com/canalpix/all-pc/all-pc.xlsx.zip



---



BARGES 2014 - 2021
DEEPSEA VESSELS 2014 - 2021

FISHING VESSELS 2014 - 2021

MISCELLANEOUS VESSELS 2014 - 2021
(public vessels, workboats, inshore passenger, replicas, etc.)

TUGS 2014 - 2021



---
All inquiries / comments / suggestions to:
email canalpix@capeirish.com
phone 508.564.8764