"GOLDEN LANE"
Irish traditional music and song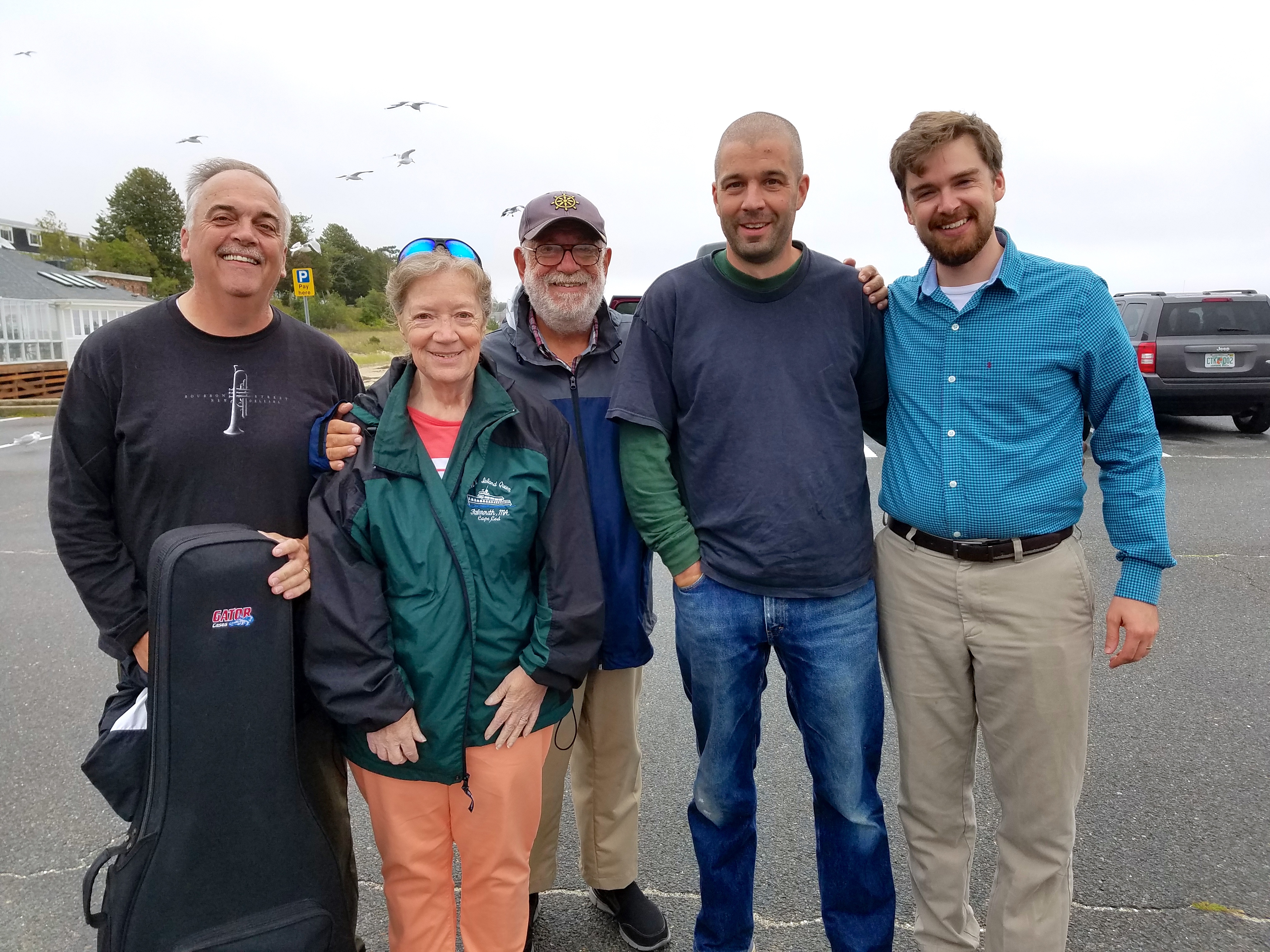 Left to right:
John MacDonald, guitar / banjo
Pat Black, bodhrán (Irish drum) / whistle / vocals
Bill Black, guitar /banjo / bouzouki / vocals
Colin Everett, uilleann pipes / whistle
Mark Oien, fiddle


"Golden Lane" is a group of musicians from the SE New England area who specialize in
performing the lively dance music of Ireland (jigs, reels, etc.)
in a traditional style. They also perform songs (in English and Gaelic).

Like other musical groups, the band has been on hiatus during the pandemic. But
we've all survived (thank God) and are looking forward to getting back to work!


---

NEXT CONCERT:
"Prelude to Saint Patrick's Day"
Highfield Hall, Falmouth
Sunday March 12, 2023
4:00 pm
with guest fiddler Fern Tamagini-O'Donnell
and dancers from the Maureen Haley School of Dance
click here for a fridge flyer


---

The group's performances are always "family-friendly" and interaction with the
audience (e.g. questions about the music or the instruments, kids dancing, clapping/foot-tapping)
is welcome.

Prior to covid, members of the group have also hosted other musicians
at the regular Thursday evening session held at "O'Shea's Olde Inne" in West Dennis.
We're hoping to resume once delta, omicron, and their Wuhan bat playmates get finished
messing up our lives (and those of pub owners!)

Recent pre-pandemic performances:
library gigs in Mattapoisett, Wareham, Harwich, and West Falmouth
HyLine Canal Cruises
New Bedford Folk Festival
TD Bank Concert Series in Falmouth
St. John's "Summer Breeze" concert in Sandwich
First Night Sandwich
New Bedford Fishing Heritage Center


Out of respect for the music and for their audience demographic,
the group avoids the indoor use of amplification wherever possible.

They do however have a sound system available for outdoor performances.

Click here for some brief samples of their music!

Contact information:
Bill Black
bill [at] capeirish [dot] com
508.564.8764
(text message preferable to voicemail)


---
update 2/19/23

---